Synonym Detection
The Synonym Detection feature generates pairs of synonyms and pairs of similar queries. Two words are considered potential synonyms when they are used in a similar context in similar queries. When synonym detection is enabled, a query that contains a matching term is expanded to include all of its synonyms, with the original term boosted by a factor of two.
| | |
| --- | --- |
| | When you manually add new synonym pairs, subsequent job runs use those documents as input for machine learning to improve the job's output. Unlike job-generated documents, manually-added query rewriting documents are never overwritten by new job output. |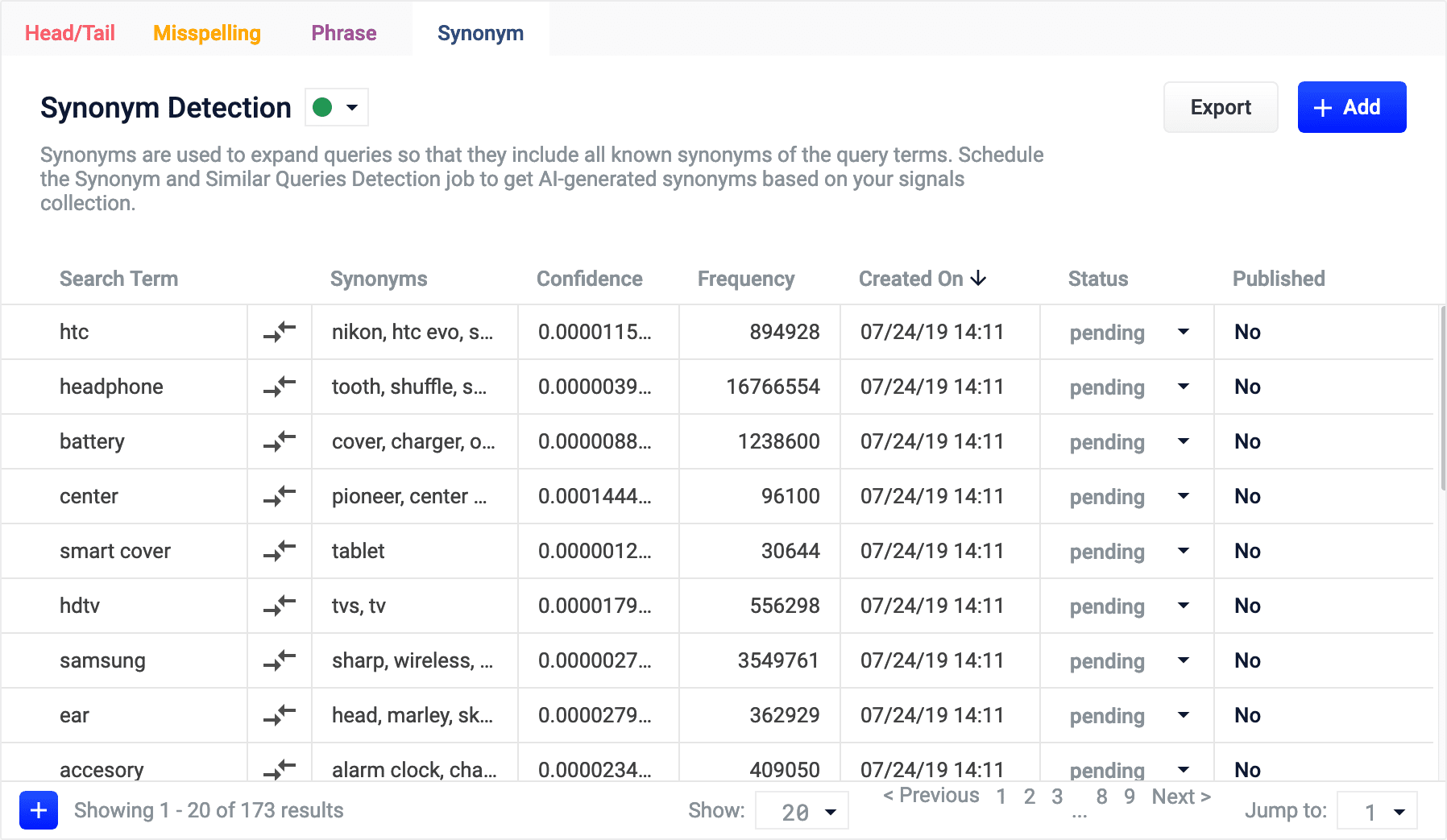 To toggle between uni-directional and bi-directional, click the

icon next to the synonym pair, then click the directionality icon:

Uni-directional synonyms produce query substitutions. That is, when a query term matches a known uni-directional synonym, the original query term is replaced with the synonym.
In the uni-directional example below, "iphone" is a synonym of "phone" but "phone" is not a synonym of "iphone". When "phone" is found in a query, it is replaced with "iphone".

| | |
| --- | --- |
| | When you manually create a new synonym pair, the default is uni-directional. |
Bi-directional synonyms produce expanded queries. That is, when a query contains a known bi-directional synonym, the query is rewritten to include the original term plus all of its known bi-directional synonyms, resulting in a greater number of potentially relevant results. The original term is also boosted to help preserve the user's intent.
In the bi-directional example below, "tv" is a synonym of "television" and "television" is a synonym of "tv". If a query contains either "tv" or "television", the query is expanded to include both terms.

| | |
| --- | --- |
| | Job-generated synonyms are always bi-directional unless a reviewer edits them. |