Latest Release: 5.0.2 (18 December 2019)
Component Versions
Fusion comes bundled with everything you need to get started.
| | | |
| --- | --- | --- |
| Solr 8.3.1 | ZooKeeper 3.5.6 | Spark 2.4.3 |
New Features
Predictive Merchandiser
Predictive Merchandiser is an AI powered merchandising tool that provides insights and recommendations for optimizing search results and product placement.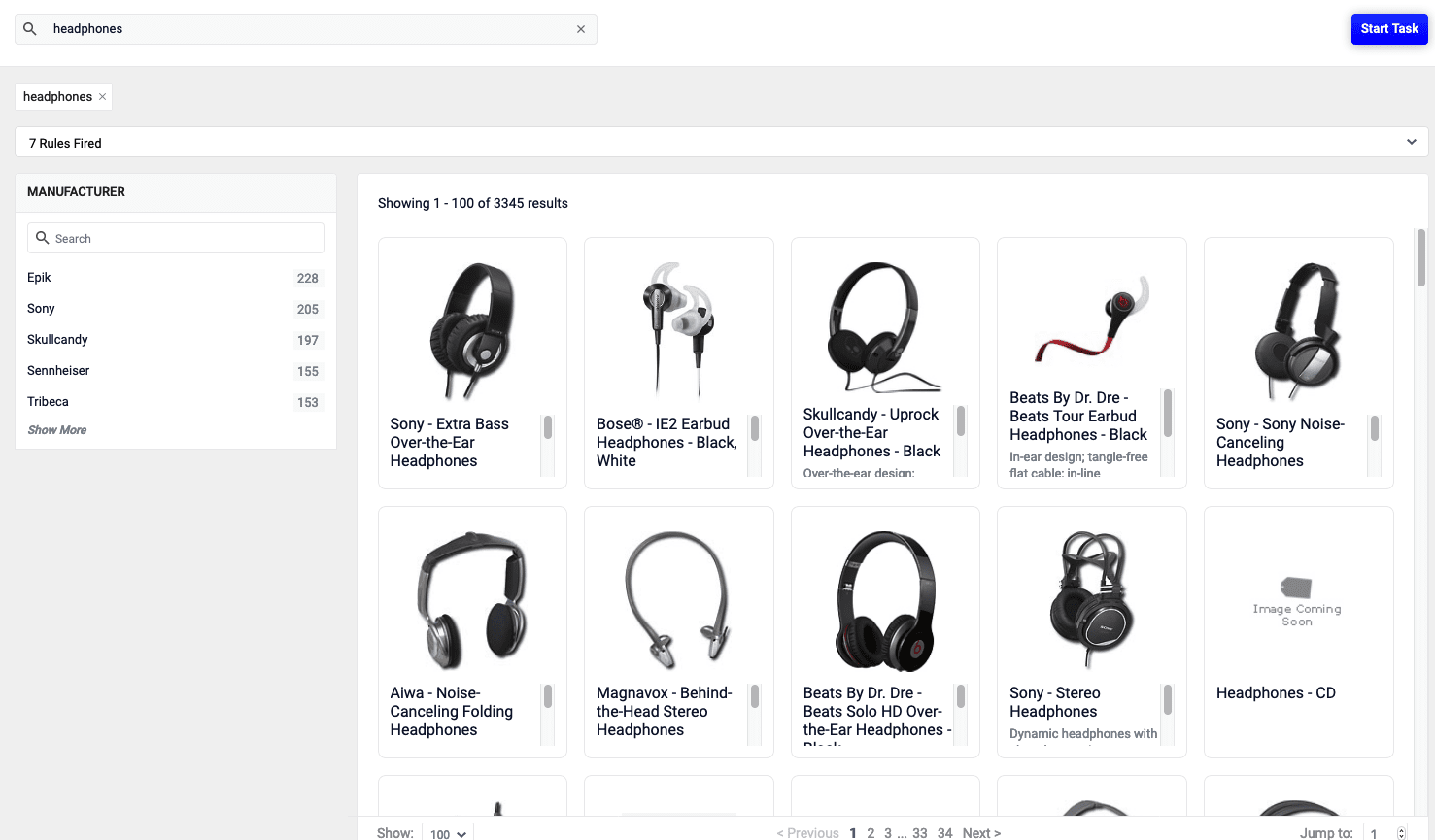 It provides an easy to use interface, allowing you to:
Connect to a Fusion Server data source and simulate the shopping experience of your customers.

Pin, boost, bury, and block specific products in your catalog.

Create business rules to display custom banners, or redirect customers to a different page on your site, for example.

Create search rewriting strategies to manage spelling mistakes, synonym matching, phrase matching, and poorly performing queries.

Review query rewriting strategies that were generated automatically using machine learning models in Fusion.

Deploy new business rules and search rewrites to the Fusion data source where they can be triggered by live queries.

View analytics reports that show, for example, the variation in site visits over time, the most clicked on products, and the most searched for terms.
Jupyter Notebook Integration
Starting with Fusion 5.0.2, we now provide a Jupyter service that can be run from the Fusion Helm chart. Jupyter is an open-source web application that allows you to create and share documents that contain live code, equations, visualizations, and narrative text.
Run/Debug Spark code in Scala/Python (replacement for spark-shell)

Run SQL queries via Fusion SQL

Debug Scala and SQL transforms in PBL jobs

Everything else for which Jupyter is designed
Improvements
The HTML parser now parses the application/xhtml+xml media type by default.
The HTML parser can filter HTML content using jsoup. New HTML parser configuration options include:

| | | |
| --- | --- | --- |
| Configuration option | Default value | Description |
| excludeFilters | N/A | Jsoup-formatted selectors for elements to exclude from the HTML |
| filterBeforeMapping | False | Apply exclude filters before performing HTML field mapping |
| filterBeforeExtractingLinks | False | Apply exclude filters before performing link extraction |
Index pipelines can now receive nested JSON documents through the Parallel Bulk Loader.
The Fusion UI now supports undo for deleted rules.
A new boolean property, shareState, is introduced for Javascript Query Stages. When set to true, a single Javscript engine will be used for all queries on a Javascript query stage. Previously, a unique engine was used for each thread.

Under certain conditions, this can improve performance significantly.
Previous releases
4.2.5 (22 October 2019)
Component Versions

| | | | | |
| --- | --- | --- | --- | --- |
| Solr 7.7.2 | ZooKeeper 3.4.13 | Spark 2.3.2 | Jetty 9.4.19.v20190610 | Ignite 2.6.0 |
5.0.1 (10 October 2019)
Component Versions

| | | |
| --- | --- | --- |
| Solr 8.2 | ZooKeeper 3.4.13 | Spark 2.4.3 |
Performance is improved for the logging of the SQL service.
Synonym detection is improved to better handle multi-word synonyms.
The Cluster, Hosts, Services, and Datasources dashboards are removed from the DevOps center. The Log Viewer dashboard remains.
Minor changes to the default Spark settings in Kubernetes.
5.0.0 (17 May 2019)
Component Versions

| | | |
| --- | --- | --- |
| Solr 8.2 | ZooKeeper 3.4.13 | Spark 2.4.3 |
Lucidworks Fusion 5.0 lets customers easily deploy AI-powered data discovery and search applications in a modern, containerized architecture with built-in support for rapidly creating interactive dashboards and modern enterprise applications. Customers can leverage existing models and workflows, or create and deploy new ones quickly using popular tools like Python ML, TensorFlow, scikit-learn, and spaCy.
Kubernetes
Fusion 5.0 introduces Kubernetes (k8s), an open-source system for automating deployment, scaling, and management of containerized applications, as the recommended Fusion deployment model.
Enforcing best practices
With Kubernetes, Fusion users have a common language to declare how Fusion should be installed, configured, and maintained in production. Instead of focusing on internal implementation details, operations engineers will manage Fusion by monitoring how it uses native Kubernetes resources.
Reducing cost of ownership
Fusion with Kubernetes allows operations engineers to run Fusion, reducing the need for specialized training and internal experts.
Simplifying maintenance and upgrades
Kubernetes allows Fusion users to make zero downtime upgrades simple with rolling updates, minimizing the risks associated with changing a live cluster.
Spring Boot
Traditionally, the cross-cutting concerns of Fusion's various microservices have been handled with a chassis built and maintained by Lucidworks. Now, Fusion 5.0 employs Spring Boot as its microservice chassis.
Whether Fusion 5.0 is being deployed in a Kubernetes, non-Kubernetes, or on-premises environment, Spring Boot allows Fusion to be deployed using the same underlying framework.